"Life expands or shrinks in proportion to one's courage." ~Anain Nin
welcome wagon
It's been a long time since I updated the sidebar, so please greet my new neighbors with loaves of warm bread and steamy pies.
jaybird found this for you @ 17:30 in Blogosphere, Tech & Internet | | permalink
I awake to you
The thunderstorm outside, it's a love song.
The lightening strikes are just electric words
That flash the sky to say that now is more than a fleeting breeze.
Leave your old tin cup out on the window sill
And let it fill with the story of water;
Part river, part tears, part glacier, part dewy exhale of the old gods,
And the thunder rocks you like a spring dream lover,
Tangled in heavy clouds, the tangential conversations of thought-made winds,
And little raindrops bead on your skin,
Temporal jewels from your wandering lover,
Your early-morning meteorological reverie,
Your life is revealed in the verdant sway of trees in the storm's retreat,
A flicker of color in passing weather,
So deep, bright, green, momentary, minute, connected,
How vital we are... how slim the stem...
Emboldened by the storm,
We rise, searching out the sun,
Knowing there are more love songs in the forecast,
More insistence
To love you
This instant.

jaybird found this for you @ 11:16 in Journaling the Infinite | | permalink
my fake pyramid
USDA hopes the updated food pyramid, MyPyramid, will help to ease much of the confusion that has come from so-called "doctors" and "scientists" claiming that their independent, repeatable experimentation has shown red meat, processed foods, agrichemicals and irradiation to be unhealthy for people and the planet. Many of USDA's top officials have worked in the Agribusiness industry, providing the expertise necessary to develop a pyramid that best represents the truth about healthy eating -- it's not what happens to the food before it gets to your table, but simply that you eat substantial servings of all foods -- Following these guidelines will help ensure the health of American families while guaranteeing the health of Agribusiness Corporations around the world.
jaybird found this for you @ 20:55 in Silly People, Satire & Strange Behaviors | | permalink
swmming free
The roots of male nude bathing are planted at least partly in homoeroticism. Older Athenian men regarded watching the swimming of ephebes, young men undergoing physical and military training, as a great pastime. But the more modern roots of the practice seem to draw on the urban decay of the late 19th century, the historian George L. Mosse wrote in the Journal of Contemporary History (April 1982), a subject he later developed in "Nationalism and Sexuality" (1985).
At the turn of the last century, Mosse explained, naked swimming and nudism in general gained wide acceptance in Europe following centuries in which Christian modesty made the naked body shameful, and leading medical authorities advised a thick dirt patina as the best protection against sickness. "Cities were condemned as breeding grounds of immorality and moral sickness," he wrote. "The enthusiasm for nude swimming, athletics and sunbathing, even while condemning false shame, harnessed the rediscovery of the body to respectability."
jaybird found this for you @ 16:45 in I don't know where to put this... | | permalink
who do we have to thank?
"Clearly, we have entered a new and frightening era for anti-LGBT violence."
...Data collected in for 2004 confirms that a dramatic rise in anti-LGBT hate incidents noted by the organization in the second half of 2003 continued unabated, and perhaps even worsened in throughout 2004.
"This year's report has to be viewed as a follow-up to our report from a year ago," said Clarence Patton, NCAVP's Acting Executive Director. "In the last edition of this report it became all too clear that with respect to violence, the nation's LGBT communities had entered a very new, and very dangerous era in which all of us were under attack at levels not seen in recent years," continued Patton.
"The leaders of America's anti-gay industry are directly responsible for the continuing surge in hate violence against lesbian, gay, bisexual and transgender (LGBT) people. While other forms of crime continued to fall, the National Coalition of Anti-Violence Programs has documented a 4% increase in anti-LGBT crime in 2004, coming on the heels of a 26% increase in the last half of 2003. This spike in violence parallels the exact same period since the Right went into demonic, anti-gay hyperdrive following the Supreme Court's Lawrence v. Texas decision in July of 2003. Since then, church pews and the public airwaves have been awash in ugly, anti-gay rhetoric and fear-mongering.
jaybird found this for you @ 12:33 in Gay, Lesbian, Queer & Free | | permalink
Gore
"An American heresy" [once at the article, copy-n-paste this link to skip the ad]
...Today's Republicans seem hell-bent on squelching the ability of the minority in this country to express dissent. This is in keeping with other Republican actions to undercut the legislative process. And in the filibuster fight they are doing it with utter disregard for the rule of law so central to our democracy. There is, of course, a way to change the rules if they so choose -- and that is to follow the rules. When they decide instead to break the rules and push our democracy into uncharted, uncertain terrain, the results are often not to the liking of the American people.
jaybird found this for you @ 08:30 in News, Opinion & Politique | | permalink
modelling interconnectivity in real-time
Ito in conversation with Sirius
People on the Internet have talked a lot about how a sort of intelligence will form just by connecting everyone together. The issue is how we are connected together. Since it is an organic/chaotic system you can't engineer it like you engineer a bridge, you have to get it just right, and I think a lot of it is trial and error. Although this isn't a great metaphor, the amount of DNA that separates us from Chimps or even slugs is quite small. Similarly, throwing social software at the problem of freedom, democracy and leadership is like trying to predict — by looking at a bunch of DNA – whether you're going to get Einstein, a chimp, or a slug. Some day maybe we will know how to figure this out, but right now, it's a lot of tasting and stirring.
So what have we learned? We've learned that conversations on mailing lists tend to explode in flame wars. We've also learned that if you make a web page, there is a good chance no one will notice. Mailing lists are like rooms that people can get into, but very difficult to get people out of. Everyone in the room hears everyone else in the room. Too much feedback.
A personal web page .... No one can hear you. Not enough feedback. Life and good emergent systems live in the interesting place between too much feedback and too little feedback, that very special space between chaos and order. It's the sweet spot of emergent order that we see in fractals, life, and the high of being "in the zone."
My theory is that the critical mass of actors as well as the right balance of the cybernetic feedback systems is getting closer. Blogs allow you to more easily ignore stupid threads on other blogs, but participate in conversations. This is because blogs ping servers to let you know that they have been updated so they can be indexed immediately and those who have been linked to or mentioned will immediately know. They can read the post and assess whether the comment requires feedback or not. Speed has increased, feedback occurs, but filtering occurs as well.
Although the dialog on blogs is far from ideal, we have broken past many of the issues in mailing lists and web pages without the additional feedback elements of blogs. And we've introduced new issues. People can still troll your comments section and following conversations across blogs is still difficult, although this is getting easier.
jaybird found this for you @ 14:45 in Blogosphere, Tech & Internet | | permalink
the news-sentinel of jaybirdville
The stars are in alignment for taking a sick day... might not sound like a cause for celebration, but I need the rest, and my back/digestive issues aren't really all that awful. I need time to breathe.
So, it's been a while since we talked, and I hope you are agog with the glory of spring, as I've been. I've been excruciatingly busy with work, school, and all those silly things I commit myself to, and it is grinding me down. Today is a gorgeous day, and even if I'm not in the best shape to fully physically embrace it, I'll open myself to the day.
What's new? I'm in the second block of classes at school, I'm 31 days away from the trip to Peru and Bolivia. The book is selling well, and the promotional events went well. I've made the bold step of going into a short round of therapy for childhood issues, though this therapist tends toward more of a present then historical focus.
I am persisting through a bit of writer's block, and I'll try to chip away at that over the weekend. I think I'm having a small crush on someone, and perhaps the results of that will be confirmed soon. I'm being very careful here because I've been terribly disappointed before. Fingers crossed, though, as this season begs for an awakening of the heart. Perchance some romance will assist in reviving my mental ink. Also, some friends long out of touch have come out of the woodwork, and I've had a gay old time reconnecting with these lovelies.
That's just about it. Of course, there's really much more, but I'll leave the details to your imagination...
jaybird found this for you @ 08:11 in Journaling the Infinite | | permalink
globish?
If you can't master English, try Globish
It happens all the time: during an airport delay the man to the left, a Korean perhaps, starts talking to the man opposite, who might be Colombian, and soon they are chatting away in what seems to be English. But the native English speaker sitting between them cannot understand a word.

They don't know it, but the Korean and the Colombian are speaking Globish, the latest addition to the 6,800 languages that are said to be spoken across the world. Not that its inventor, Jean-Paul Nerrière, considers it a proper language.

"It is not a language, it is a tool," he says. "A language is the vehicle of a culture. Globish doesn't want to be that at all. It is a means of communication."
More
jaybird found this for you @ 20:15 in Culture, People & Customs | | permalink
looting a culture
History lost in dust of war-torn Iraq
The picture there is appalling. More than 150 Sumerian cities dating back to the fourth millennium BC - such as Umma, Umm al-Akkareb, Larsa and Tello - lie destroyed, turned into crater-filled landscapes of shredded pottery and broken bricks. If properly excavated, these cities - covering an estimated 20 sq km - could help us learn about the development of the human race.
But the looters have destroyed ancient monuments, erasing the region's history in a tireless search for a cylinder seal, a sculpture or a cuneiform tablet that they can sell to a dealer for a few dollars. It is tough, poorly paid work carried out by jobless Iraqis with no way of earning a better income.
Even greater detail of the worldwide antiquities crisis
jaybird found this for you @ 16:07 in News, Opinion & Politique | | permalink
my god, it's full of stars
jaybird found this for you @ 11:54 in Science, Quantum & Space | | permalink
Let's Talk About Climate Change
We must harness rationality, good science, and enlightened globalization
The commonplace view of the earth from an airplane at 35,000 feet -- a vista that would have astounded Dickens or Darwin -- can be instructive when we contemplate the fate of our earth. We see faintly, or imagine we can, the spherical curve of the horizon and, by extrapolation, sense how far we would have to travel to circumnavigate, and how tiny we are in relation to this home suspended in sterile space. When we cross the Canadian northern territories en route to the American West Coast, or the Norwegian littoral, or the interior of Brazil, we are heartened to see that such vast empty spaces still exist -- two hours might pass, and not a single road or track in view.
But also large and growing larger is the great rim of grime -- as though detached from an unwashed bathtub -- that hangs in the air as we head across the Alps into northern Italy, or the Thames basin, or Mexico City, Los Angeles, Beijing -- the list is long and growing. These giant concrete stains laced with steel, those catheters of ceaseless traffic filing toward the horizon -- the natural world can only shrink before them.
The sheer pressure of our numbers, the abundance of our inventions, the blind forces of our desires and needs, appear unstoppable and are generating a heat -- the hot breath of our civilization -- whose effects we comprehend only hazily. The misanthropic traveler, gazing down from his wondrous, and wondrously dirty, machine, is bound to ask whether the earth might not be better off without us.
jaybird found this for you @ 07:53 in Environment, Ecology & Nature | | permalink
a bug's life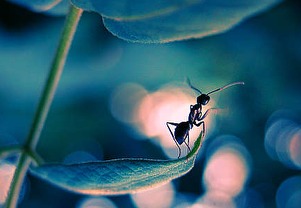 They are everywhere: around us, beside us, beneath us, busy in their small, secret world. Tiny, alien, comic and fierce, stalk legs and compound eyes, extravagantly built for plain purposes: they fly, they mate, they hunt and feed.
And they dream. They dream of the gorgeous saturated swirl of Eden, velvet leaves edged and shimmering in heat and dew. They dream of sunlight that lasts forever, and shadows as deep as the sea.
The insects here are alive, not silent and still as we usually see them, specimens pinned dead and dry on a page. These are pictures of creatures living their lives, leaping from skyscraper stalks, climbing and tumbing over giant pods, surmounting seeds. Of ladybugs in love. Of katydids considering. Of philosophic ants. Every day the green world dreams its secrets, and every day the insects live that dream.
jaybird found this for you @ 20:04 in Environment, Ecology & Nature | | permalink
it's a trap!
Amazonian ants ambush prey
Using a home-made trap, a tiny species of ant is capable of ensnaring prey much larger than itself and tearing it to pieces. The ants (Allomerus decemarticulatus), which live in Amazonian plants called Hirtella physophora, construct a honeycomb-like structure out of their host plant's fibres from which they can stage an ambush.
The worker ants hide in the holes of this death trap with their mouths open wide, waiting for locusts, butterflies or other insects to land. When prey arrives they quickly seize its extremities, pulling on legs, arms and antennae until the hostage is rendered immobile. Once trapped, other ants from the colony arrive to sting and bite the prey until it is paralyzed.
jaybird found this for you @ 16:01 in Environment, Ecology & Nature | | permalink
douglas rushkoff
Get Back in the Box
A renaissance allows for a profound shift in perspective. While the original Renaissance invented the individual, as well as competition, this renaissance has really brought us new possibilities for collaborative action - networked collectivism and a society of authorship. We've been wrestling since the Renaissance - and some would say since high Greek culture - with the seeming contradiction between the agency of individuals and their power as a collective. I mean to show that we have new ways of contending with dimension that let us see how individuality is itself defined by connections to other people, and that agency is really a group activity.
jaybird found this for you @ 11:47 in Consciousness, Psychology & Philosophy | | permalink
left-wing angels
Religious liberals
Secular liberal. Religious conservative. According to the mainstream media, these are the two sides of every major sociopolitical debate in the country. In its attempt to balance all things with a "two sides to every story" formula, the media has perpetuated a view of American life that is simplistic at best, horribly inaccurate at worst. Removed from the story are the minor but still important characters that offer third and even fourth sides to the discourse. These minor characters reflect the complexity of the great debates. For the moment, I too must ignore some of the minor characters to shed light upon another. The focus on this one forgotten voice will, I hope, make sense in the end. For now, please be patient.
Religious liberal. Have I lost my mind or do I simply enjoy oxymorons? (Well, both are true to some extent, but that's beside the point.) In this case, neither. Religious liberals have often been an integral part of American politics. Much of the social and political progress we so revere was brought about in no small way by religious liberals. From the abolition of slavery to the civil rights movement, from women's suffrage to gay liberation, these living, breathing "oxymorons" have been at the vanguard of the fight for justice.
Go to any Gay Pride rally or parade and you'll find the religious denominations/ organizations that have offered invaluable support to this cause. Find a pro-choice protest and surely amidst the crowds, you'll also find religious liberals. Religious liberals have somehow become the unheard, forgotten voice in our country despite the tremendous role they've played in our history and their continuing participation in the modern struggles against the forces of oppression.
jaybird found this for you @ 07:56 in Spirituality, Religion & Mythos | | permalink
creature double feature
Meet "Professor Turtle," keeper of The Lake of the Returned Sword and its mysterious giant reptile. Zoologist Ha Dinh Duc, one of Hanoi's best-known characters and world famous in his field for tracking the huge turtle living in the center of Vietnam's capital, is retiring soon. But he is not giving up his quest for recognition of the turtle as a unique species after 15 years of following its movements in the murky green water.
"I call the turtle great-grandfather," said Duc, 65, who displays an obvious attachment to the 6-foot-7-inch-long and 3-foot-7-inch wide endangered turtle he named after an emperor. Nobody knows the exact age of the turtle, but for me, it is maybe more than 600 years old."

jaybird found this for you @ 20:39 in Environment, Ecology & Nature | | permalink
cervantes a-go-go
Free Quixotes big pull in Caracas
People in the Venezuelan capital Caracas have been queuing around the block to collect free copies of the Spanish masterpiece Don Quixote. The Venezuelan government is handing out a million copies to mark the 400th anniversary of its publication. Populist President Hugo Chavez has urged Venezuelans to draw inspiration from the figure of Don Quixote.
jaybird found this for you @ 16:28 in Authors, Books & Words | | permalink
words cannot approach reality
Being, Consciousness and Everything
Unlike religious proposition or culturally centered knowledge, scientific knowledge applies equally to everyone and everything. Science focuses its search for truth based on universal predictability and regularity, and shows little preference for anything else such as race, gender or religious belief. By understanding the causes of observed regularities, science has discovered the fundamental laws of nature. The powers of scientific discovery have been demonstrated through the achievements of modern technology. And yet, science has not arrived at its ultimate goal where it would seem to merge with religion and philosophy. For the ultimate goal of science must be to discover the absolute nature and condition of everything.
Newton's laws of motion first established a basis of understanding with enthusiastic outlook. Einstein's theory of relativity revealed that the speed of light is a constant operating in the context of a space-time continuum populated with matter and sporting with energy. The fact that the speed of light is constant for any observer in a common frame of reference points to an underlying discrete structural relationship between time and space and experience. Finally quantum physics has taken us to the brink of understanding subatomic behavior and the underlying construction of the very building blocks of physical reality. It has revealed the paradoxical wave-particle behavior of light or electromagnetic radiation. When theoretical physicists found the right model to describe the observed behavior of elementary particles, regularity gave way to discontinuity and uncertainty. After nearly seventy years, the profound implications and varied interpretations of quantum mechanics remain a subject of incredible fascination and serious scientific debate.
jaybird found this for you @ 12:22 in Consciousness, Psychology & Philosophy | | permalink
george carlin
We have taller buildings, but shorter tempers; wider freeways, but narrower viewpoints.
We spend more, but have less; we buy more, but enjoy it less.
We have bigger houses and smaller families; more conveniences, but less time;
We have more degrees, but less sense; more knowledge, but less judgment; more experts, but more problems; more medicine, but less wellness.
We know too much, smoke too much, spend too recklessly, laugh too little, drive too fast, get too angry too quickly, stay up too late, get up too tired, read too seldom, and watch TV too much.
We have multiplied our possessions, but reduced our values.
We talk too much, love too seldom, and hate too often.
We've learned how to make a living, but not a life; we've added years to life, not life to years.
We've been all the way to the moon and back, but have trouble crossing the street to meet the new neighbor.
We've conquered outer space, but not inner space.
We've done larger things, but not better things.
We've cleaned up the air, but polluted the soul.
We've split the atom, but not our prejudice.
We write more, but learn less. We plan more, but accomplish less.
We've learned to rush, but not to wait.
We build more computers to hold more information to produce more copies than ever, but have less communication.
These are the times of fast foods and slow digestion; tall men, and short character; steep profits, and shallow relationships.
These are the times of world peace, but domestic warfare; more leisure, but less fun; more kinds of food, but less nutrition.
These are days of two incomes, but more divorce; of fancier houses, but broken homes.
These are days of quick trips, disposable diapers, throw-away morality, overweight bodies, and pills that do everything from cheer to quiet.

jaybird found this for you @ 08:11 in Authors, Books & Words | | permalink
thirty five days
There's a continent that seems so distant
But perhaps it's stitched inside the chambers of the heart
And to travel there, one must only listen
To the syncopation that sustains our very lives...
South America, are the Andes and the Amazon
Already flowing through me?
I'm crying tonight for your pueblas,
People of the condor, those who bravely stand
Despite the flight of mad birds.
Your trails through the holy mountains
To places where the Gods still dance on Earth
They wind through a soul, hypnotized,
Like my own eyes fixed on Borges, Neruda, Lorca,
Those sages of the pampas, of the dream!
I count the days until I can rest and sleep in your temple!
I approach you with humility;
There is blood spilled upon the wind-tossed fields of the Lord, of Quetzcoatl,
Within weeks I enter a place of dueling...
But El Condor! El Puma! They eclipse even Christ and the Old Ones
Because they are prescient now, they are ripples upon Titicaca, swirls in clouds.
I don't expect anything other than the mystery of your Earth
Allow me the pleasure of intoning a few simple vowels of your Creation Story,
And perhaps, enfolded within those glyphed and seal'd parchments,
A story of the wild, of the emergent, of the true, is spun as real as llama's wool.
jaybird found this for you @ 00:46 in Journaling the Infinite | | permalink
denise levertov
Sojourns in the Parallel World

We live our lives of human passions,
cruelties, dreams, concepts,
crimes and the exercise of virtue
in and beside a world devoid
of our preoccupations, free
from apprehension--though affected,
certainly, by our actions. A world
parallel to our own though overlapping.
We call it "Nature"; only reluctantly
admitting ourselves to be "Nature" too.
Whenever we lose track of our own obsessions,
our self-concerns, because we drift for a minute,
an hour even, of pure (almost pure)
response to that insouciant life:
cloud, bird, fox, the flow of light, the dancing
pilgrimage of water, vast stillness
of spellbound ephemerae on a lit windowpane,
animal voices, mineral hum, wind
conversing with rain, ocean with rock, stuttering
of fire to coal--then something tethered
in us, hobbled like a donkey on its patch
of gnawed grass and thistles, breaks free.
No one discovers
just where we've been, when we're caught up again
into our own sphere (where we must
return, indeed, to evolve our destinies)
--but we have changed, a little.
jaybird found this for you @ 15:34 in Authors, Books & Words | | permalink
a daily art lesson
Your Daily Art [via mefi]
Rousseau frequently visited the botanical garden in Paris for inspiration, he then concocted scenes with wild animals in his imagination and put them on canvas. His style was admired by other artists for it's straighforward and untrained style.
jaybird found this for you @ 12:00 in Art, Music, Theater & Film | | permalink
ayurveda rising
Ancient Indian medicine can reach parts unknown to Western specialists [via orlin grabbe]
"Every day, a new medicine," he sighs. "It is so temporary, so changeable. We talk about anti-ageing, anti-this, anti-that. The anti word is so negative. Ageing is a natural process. Each phase of life should be equally celebrated. What we should be talking about is healthy ageing. A doctor should not be just for the sick patient but for healthy people."
Put like this, it is hard to disagree that as much may have been lost as gained by modern medical advance. Dubey finds that Western doctors are competent at looking after individual troublesome organs but puzzled by the concept of treating the whole person. Ayurvedic medicine (from ayus, meaning "life" and veda, meaning "science") is all-inclusive. In India, it is part of the national health service, offered in conjunction with conventional medicine in every hospital.
It sees the body as a little universe and each person as having a pattern of energy as unique and individual as a thumb print. The physiological energies that control the functions of the body are known as doshas. Each of us has three - fire (pitta), water (kapha) and air (vata) - and it is believed that an imbalance between the three causes disease. Getting the balance right enhances immunity, prevents illness and maintains health. "It's all about wellbeing," says Dubey, "about achieving a balance between ourselves and nature."
jaybird found this for you @ 19:56 in Health, Medicine & Bio-Happiness | | permalink
wait. a promised land in florida?
A self-styled prophet, a legion of followers, and a 'Promised Land' in Florida
In the beginning, there was an elderly widow who owned a modest brick house in the most heavenly part of town. One year she decided to put her "home place" on the market, and along came a dapper gentleman and his adoring wife, cash in hand. The gentleman, who was 67, must have been a preacher, it was rumored, for he often could be seen strolling about his new yard in a funereal suit and necktie, even on the muggiest of summer days, with a countenance of serenity and beneficence that could belong only to a servant of the Lord.
But there was something disquieting about this man, too, something inexplicable that made his neighbors uneasy whenever he greeted them by politely touching the brim of his fedora. By every measure, the old man and his wife were model citizens. They were early risers. They didn't cuss, drink, smoke, pry or gossip. They drove a gleaming, burgundy Cadillac (with gilded trim and hubcaps). So, as months passed, the suspicions faded, dismissed as a small town's old-fashioned discomfort with outsiders.
After all, as the neighbors could plainly see, this couple was quite beloved. Cars with tags from South Dakota, Illinois, Indiana, Montana and Texas arrived at all hours, and out stepped the cleanest-cut, most sharply tailored couples imaginable, and their winsome children, too, so cutely awkward in their Sunday clothes and shoes. In no time, they set about remodeling the dwelling of the preacher, whose name was Charles Meade.
jaybird found this for you @ 15:50 in | | permalink
Stone age hardcore
German archaeologists have found what they believe is Europe's earliest known clay figure of a male, along with a female figure that they think once was attached to the male in a sexual position. Together, the two finds could represent the earliest 3D depiction of a copulating human couple, according to the archaeological team. Clay is difficult to date accurately, the team indicate, but markings on the objects, their style and the place in which they were found suggest the figures date to 5200 BC.
jaybird found this for you @ 11:31 in Carnality, Naughtiness & Fun | | permalink
in training today
As you read this, I'm driving bleary-eyed to Raleigh
For an all day training.
Yay.
Hopefully I'll get NPR the whole way.
Hopefully, they'll have realistic and non-toxic snacks at this training.
Hopefully it will get some Wifi signal so I can pretend to take notes While I research Rosicrucians or ancient drag shows.
Hopefully, the training will turn into a drag show with various Hippopotami, Pythagorean solids and rivers of peanut butter
Overtaking the overhead projector.
Hopefully, swarms of beautiful winged young men in togas
Smelling like honeysuckle
Will swoop through the ventilation shaft
And take me, resisiting only symbolically, to Shangri-La or El Dorado
And there won't be PowerPoint there, or hanging file folders
Or Rush Limbaugh or pop-up ads
And we'll eat organic grapes and read poems by Mary Oliver and Rumi
And we'll make out and not think about what time it is
Because there's no time in Utopia
Like there is in a windowless conference room in Raleigh
Where, if you follow along,
We're on part 3A of the agenda,
And even though you're 250 miles from home on a Friday
Pay attention and tuck in your Hawaiian shirt,
At least until the drive home,
Where, hopefully, you'll catch the sunset
Which won't look anything like part 3A on the agenda.
jaybird found this for you @ 07:35 in Journaling the Infinite | | permalink
kaku on kaku
Unifying the Universe
I find myself spending most of my time staring out the window. I see blocks of equations dancing in my head, and I spend hours trying to fit them together. These blocks are as familiar to me as the back of my hand, and I spend much of my waking time turning them inside out in my head. As these equations begin to fit together, I get a scratchpad and jot down some formulae. When I am confident I am on the right track, I take out another pad and pour out scores of dense equations, sometimes burning up several hundred pages to prove my hunch correct or incorrect. Then I go back and stare out of the window again.
Apparently this is not unusual: all the theoreticians I know seem to work this way. Edward Witten, whom many consider to be the engine behind the most creative ideas in string theory, wrote that when he was at Harvard, he spent most of his time staring out the window at the Cambridge landscape. Now he is at the Institute for Advanced Study, he spends most of his time staring out of the window at Princeton...
I use fields every day of my life. I daydream of fields. Just as a carpenter uses wood to create beautiful furniture, I use Faraday's fields to describe the forces of the universe. When string theory first emerged, it was a jumble of loose formulae and chaotic rules of thumb that filled sheaves of paper. I remembered the work of Faraday and decided to rewrite all those equations in the language of field theory: to write an equation 2 centimetres long that summarised string theory.

jaybird found this for you @ 20:28 in Science, Quantum & Space | | permalink
revealing rituals revealed
Freemasonry rolls up its trousers in public
Freemasonry is a highly successful organisation that has been a powerful force in helping to shape our modern scientific and democratic society. Members such as Sir Robert Moray, the founder of the Royal Society, George Washington, the first president of the United States, Sir Winston Churchill, Britain's wartime saviour, Wolfgang Mozart, the composer, and Sir Alexander Fleming, the discoverer of penicillin, all drew inspiration from its rituals.
What accounts for the wide appeal that Freemasonry has had during the past four centuries and still has today? Why does Masonic ritual inspire its practitioners to become creative, balanced individuals? The traditional answer to this question has always been "it's a secret". But why is it a secret? Is it because Freemasons have something to hide? I am much more inclined to believe that most Freemasons simply don't understand why Masonic ritual inspires and encourages them, and they cover up this ignorance by refusing to talk about the spiritual impact of their Masonry.
I first entered a Masonic temple blindfolded and my confusion remained for some time. Whatever other mysteries there are in
Freemasonry, trying to second-guess the form of words the Lodge wants to hear when its Master asks a question is the most puzzling. At least that's what I thought, until, in that first initiation, I experienced the oddest postural instruction I'd yet known. I heard the instruction . . . but what did they mean? Could I twist my body into such an odd position? Goodness knows what strange endorphins were released into my brain as I struggled to keep my body still, using only the kinetic feedback of my stretched muscles to judge what was happening. But only when this contorted question and answer session to "make me a Mason" was complete would the blindfold be removed.
jaybird found this for you @ 16:08 in Forteana, Phenomena & the Bizarre | | permalink
environmental regicide
Monarch butterfly population in jeopardy
Monarch butterflies flock by the millions to the tree-laden mountains of central Mexico each November and depart for northern climes the first of April. On their return northward, the monarchs lay their eggs on milkweed plants and die, according to the Encyclopedia Britannica. The eggs hatch and mature, and a new generation continues the trip. Each group is three to five generations removed from the previous arrivals.

In recent years, bitter cold, severe rainstorms and droughts have taken their toll on the delicate creatures. Experts say that three of the past five winters in Mexico have seen major die-offs in monarch populations. Additional threats, say researchers, include loss of habitat and a declining food supply due to the rise in illegal logging operations and the unrestricted spraying of pesticides and other poisons in forested areas of Mexico where the butterflies are known to gather.
jaybird found this for you @ 12:05 in Environment, Ecology & Nature | | permalink
non-constant constants
New twist in wrangle over changing physical constant
A new study of distant galaxies is adding a fresh perspective to the debate over whether a fundamental physical constant has actually changed over time. The work suggests the number has not varied in the last 7 billion years, but more observations are still needed to settle the issue. The controversy centres on the fine-structure constant, also called alpha, which governs how electrons and light interact. Alpha is an amalgam of other constants, including the speed of light. So any change in alpha implies a change in the speed of light - and indeed in the entire standard model of physics - with string theories touting extra spatial dimensions stepping in to fill the breach.


jaybird found this for you @ 07:58 in Science, Quantum & Space | | permalink
tonight: big bang shooters
New state of matter more remarkable than predicted
The four detector groups conducting research at the Relativistic Heavy Ion Collider (RHIC) -- a giant atom "smasher" located at the U.S. Department of Energy's Brookhaven National Laboratory -- say they've created a new state of hot, dense matter out of the quarks and gluons that are the basic particles of atomic nuclei, but it is a state quite different and even more remarkable than had been predicted. In peer-reviewed papers summarizing the first three years of RHIC findings, the scientists say that instead of behaving like a gas of free quarks and gluons, as was expected, the matter created in RHIC's heavy ion collisions appears to be more like a liquid.
"The truly stunning finding at RHIC that the new state of matter created in the collisions of gold ions is more like a liquid than a gas gives us a profound insight into the earliest moments of the universe..."
jaybird found this for you @ 19:21 in Science, Quantum & Space | | permalink
coulter also off the list
Animal Rights Groups and Ecology Militants Make DHS Terrorist List, Right-Wing Vigilantes Omitted
The Department of Homeland Security (DHS) does not list right-wing domestic terrorists and terrorist groups on a document that appears to be an internal list of threats to the nation's security. According to the list — part of a draft planning document obtained by CQ Homeland Security — between now and 2011 DHS expects to contend primarily with adversaries such as al Qaeda and other foreign entities affiliated with the Islamic Jihad movement, as well as domestic radical Islamist groups.
It also lists left-wing domestic groups, such as the Animal Liberation Front (ALF) and the Earth Liberation Front (ELF), as terrorist threats, but it does not mention anti-government groups, white supremacists and other radical right-wing movements, which have staged numerous terrorist attacks that have killed scores of Americans.

jaybird found this for you @ 15:18 in News, Opinion & Politique | | permalink
Crater a cradle for sacred site?
Rare metal found in samples at Serpent Mound
Scientists studying recent rock samples taken from beneath an ancient earthen mound are trying to determine what caused unusually high concentrations of a metal rarely seen anywhere but near Earth's molten core or in asteroids and comets. Serpent Mound, an earthen snake effigy believed to have been built from about 1000 B.C. to A.D. 200 is about 60 miles east of Cincinnati. Some believe the 1,348-foot-long mound had a religious function for its builders, although nobody knows for sure what philosophy and beliefs shaped its origin because the mound builders left no written records. Geologists only recently discovered high concentrations of iridium 1,412 feet beneath the mound. The levels of the silver-gray metal, occasionally brought up in lava from volcanoes, measured 10 times beyond what is usually present in the Earth's crust. Since there are no lava fields in Ohio, some geologists point to the iridium as evidence the mound sits upon a slightly oblong crater created when a massive extraterrestrial object slammed into Earth.
jaybird found this for you @ 11:13 in History, Civilization & Anthropology | | permalink
I stand
Today, the rights of individuals are being eroded: by government, by corporations, by society itself. This icon — the Individual-i — represents the rights of the individual. It represents the right to privacy and anonymity in the information age. It represents the rights to an open government, due process, and equal protection under the law. It represents the right to live surveillance free, and not to be marked as "suspicious" for wanting these other rights. It recognizes that a free society is a safe society, and that freedom is founded upon individual rights. The battle for individual rights is just beginning; our side needs a symbol. We hope to see this symbol displayed proudly wherever individual rights are valued.
jaybird found this for you @ 07:11 in News, Opinion & Politique | | permalink
James Tate
"How the Pope is Chosen"
After a poodle dies
all the cardinals flock to the nearest 7-Eleven.
They drink Slurpies until one of them throws up
and then he's the new Pope.
He is then fully armed and rides through the wilderness alone,
day and night in all kinds of weather.
The new Pope chooses the name he will use as Pope,
like "Wild Bill" or "Buffalo Bill."
He wears red shoes with a cross embroidered on the front.
Most Popes are called "Babe" because
growing up to become a Pope is a lot of fun.
jaybird found this for you @ 22:38 in Authors, Books & Words | | permalink
ok, seriously. this is just wrong.
Pope Godwin
In 1937 Ratzinger's father retired and the family moved to Traunstein, a staunchly Catholic town in Bavaria close to the Führer's mountain retreat in Berchtesgaden. He joined the Hitler Youth aged 14, shortly after membership was made compulsory in 1941... Ratzinger was enrolled in an anti-aircraft unit that protected a BMW factory making aircraft engines. The workforce included slaves from Dachau concentration camp. Ratzinger has insisted he never took part in combat or fired a shot — adding that his gun was not even loaded — because of a badly infected finger. He was sent to Hungary, where he set up tank traps and saw Jews being herded to death camps...

jaybird found this for you @ 17:28 in News, Opinion & Politique | | permalink
habemus papam!
His Cheesish Excellency Pope Cat MMMMM
The scent of vegetarian bacon wafted up from the apartment of Jay Joslin, signalling the election today of the world's newest Cat-holic pope. The world watched, waited, got bored, thought demonic throughts, and watched again as Avatar "Squealbucket" The Cat emerged onto the deck, pronounced himself as Pope Cat Five Thousand to the throngs of carpenter bees, blossoming trees, and chickadees, and promptly had a nappers.
A dark-cat candidate for the papacy after the death of John Paul II, Pope Cat Five Thousand is both the first American and Persian pope simultaneously, as well as being the first cat to ascend to the throne of St. Peter and hack a holy hairball upon it. Choosing not to travel to Vatican City, His Eminence will continue to reside in Woodfin, NC, studying doctrinal law, canonical literature, and just how the toilet flushes and why it is so damn exciting.
Immediately following his ascension, sales in Hello Kitty merchandise soared, while Italian sausage fell flat in Chicago futures trading. When asked to perform the standard Urbis et Orbi blessing, he stuck his little pink tongue out, and squealed this benediction:
"Oh God, thou infinitely puzzling human and furry con-cept,
How good and righteous the food bowl is,
when filled with yummy sal-mon bittie-bits,
It's a nice day and I want to lick myself,
Wouldn't you?
A-men."
jaybird found this for you @ 13:42 in Journaling the Infinite | | permalink
Layers of clustered apartments hide artifacts of ancient urban life
City on Turkish plains a major draw for 'goddess tours' [via mefi]
In the long, long history of humanity's shift from tiny clans of hunter-gatherers to settled societies of crowded city dwellers, no step was more momentous than the emergence of the first clustered towns and the sophisticated cultures their inhabitants created. Intriguing evidence of early urbanization is now emerging at one of the largest and most significant digs in the history of archaeology, a 26-acre site in Turkey's Anatolian plain known as Çatalhöyük.

jaybird found this for you @ 11:57 in History, Civilization & Anthropology | | permalink
Oxyrhynchus Papyri
Decoded at last: the 'classical holy grail' that may rewrite the history of the world
For more than a century, it has caused excitement and frustration in equal measure - a collection of Greek and Roman writings so vast it could redraw the map of classical civilisation. If only it was legible.
Now, in a breakthrough described as the classical equivalent of finding the holy grail, Oxford University scientists have employed infra-red technology to open up the hoard, known as the Oxyrhynchus Papyri, and with it the prospect that hundreds of lost Greek comedies, tragedies and epic poems will soon be revealed.
In the past four days alone, Oxford's classicists have used it to make a series of astonishing discoveries, including writing by Sophocles, Euripides, Hesiod and other literary giants of the ancient world, lost for millennia. They even believe they are likely to find lost Christian gospels, the originals of which were written around the time of the earliest books of the New Testament.
jaybird found this for you @ 08:48 in History, Civilization & Anthropology | | permalink
Chichen Itza
Through the Eyes of a Magician [thanks, orlin grabbe]
We began to ascend the great stone steps. A feeling of pride and excitement filled every fiber of my body. As we continued upward, a strong current of magical energy flowed over the stone steps. It seeped from the crevices and cracks. I could touch it with my soul. My entire body of light was energized with it. I was back in time when this shrine was active. I was so alive that I felt I might explode. We had reached the top.
From the mouth of the shrine emerged a dark presence...
jaybird found this for you @ 20:01 in Spirituality, Religion & Mythos | | permalink
storytime
The Man Who Planted Trees [via mefi]
After the noon meal, he began once more to pick over his acorns. I must have put enough insistence into my questions, because he answered them. For three years now he had been planting trees in this solitary way. He had planted one hundred thousand. Of these one hundred thousand, twenty thousand had come up. He counted on losing another half of them to rodents and to everything else that is unpredictable in the designs of Providence. That left ten thousand oaks that would grow in this place where before there was nothing.
jaybird found this for you @ 15:52 in Authors, Books & Words | | permalink
castles made of sand
It's not just building a sand castle anymore; it's sand sculpting. [via mefi]
jaybird found this for you @ 11:46 in Art, Music, Theater & Film | | permalink
Happy Monday
Woman beats off burglar with gnome [wink]
Jean Collop was woken early on Tuesday morning by the sound of an intruder on the roof of her home in Wadebridge, southwest England. "I grabbed the first thing that came to hand -- one of my garden gnomes -- and hurled it at him, and hit him," she recalled. "He lay there and I began to scream. I went back into the kitchen and found a rolling pin in case he came down. I didn't want to break another gnome."
jaybird found this for you @ 07:43 in High Weirdness | | permalink
everyday, the choir sings here
There's a liturgy just right there
Being blown by the blue holy wind, sap on the rise,
A scripture of leaves and bird's nests
A witness to thousands of days of human crossing
Our seasons an arcane drama of time's long tale.
There's a litany, been going on since daybreak,
As a working of high magic, purple blossom communion,
And the relics of yesterday scattered to distant cloud
Dancing on a current of surrendered dreams
To a hymn written from fortune's whim and this galaxy's spin.
My God, where are the throngs doubled over in awe from the beauteous?
Where is the righteous play overflowing the valleys?
Why are we not stumbling in stupor'd worship of the Goddess' living art?
If a day as today cannot awaken a life among the living
It's not wasted, as its radiance remains a sutra for those who wish to heed the wisdom.
My God, it's old to whisper aloud that everywhere is a sacramental thing
So we throw our hands toward the sun and just live it bravely,
Imperfectly, as precise as the trajectory of a tossed seed,
The sermon is cast away, the rustle of unread papers among the pine and laurel,
And everywhere the crow flies is reconceived, immaculately.
The churchgoers are scattered home
And the dandelion thrives in spite of no witness...
The curtains are drawn across the glass
And the river won't pause her endless story
These mountains are living and the world is Rite.
jaybird found this for you @ 12:40 in Journaling the Infinite | | permalink
hafiz
I cease not from desire till my desire
Is satisfied; or let my mouth attain
My love's red mouth, or let my soul expire,
Sighed from those lips that sought her lips in vain.
Others may find another love as fair;
Upon her threshold I have laid my head,
The dust shall cover me, still lying there,
When from my body life and love have fled.
My soul is on my lips ready to fly,
But grief beats in my heart and will not cease,
Because not once, not once before I die,
Will her sweet lips give all my longing peace.
My breath is narrowed down to one long sigh
For a red mouth that burns my thoughts like fire;
When will that mouth draw near and make reply
To one whose life is straitened with desire?
When I am dead, open my grave and see
The cloud of smoke that rises round thy feet:
In my dead heart the fire still burns for thee;
Yea, the smoke rises from my winding-sheet!
Ah, come, Beloved! for the meadows wait
Thy coming, and the thorn bears flowers instead
Of thorns, the cypress fruit, and desolate
Bare winter from before thy steps has fled.
Hoping within some garden ground to find
A red rose soft and sweet as thy soft cheek,
Through every meadow blows the western wind,
Through every garden he is fain to seek.
Reveal thy face! that the whole world may be
Bewildered by thy radiant loveliness;
The cry of man and woman comes to thee,
Open thy lips and comfort their distress!
Each curling lock of thy luxuriant hair
Breaks into barbèd hooks to catch my heart,
My broken heart is wounded everywhere
With countless wounds from which the red drops start.
Yet when sad lovers meet and tell their sighs,
Not without praise shall Hafiz' name be said,
Not without tears, in those pale companies
Where joy has been forgot and hope has fled.
jaybird found this for you @ 15:26 in Spirituality, Religion & Mythos | | permalink
further proof for quantum interconnectedness
The impact of its environment on a quantum computer [via orlin grabbe]
Scientists have discovered how the performance of a quantum computer can be affected by its surrounding environment. The study... will help engineers to better understand how to integrate quantum components into a standard office computer - moving us one step closer to a future of quantum computing. The collaborative team... have shown how its environment can radically alter the behaviour of a quantum computer, an effect which is not present for conventional computers of the type that exist now on our desktops.
jaybird found this for you @ 22:44 in Science, Quantum & Space | | permalink
my special partner?
By 2050, the over 65s in Japan are expected to make up a third of the population... and it's likely that technology will be relied upon to help look after them... To help combat the loneliness of longevity - and in true Japanese style - the country has turned to technology for guidance... Originally designed to be a substitute boyfriend for young single girls in the workforce, the doll has become an unexpected hit with elderly people across Japan. Since they came on to the market five years ago, more than one million dolls have been sold.
jaybird found this for you @ 18:35 in High Weirdness | | permalink
Bill Maher
New Rules
All right, it's time for New Rules, ladies and gentlemen. Ready. New Rule: If you need to shave and you still collect baseball cards, you're gay. If you're a kid, the cards are keepsakes of your idols. If you're a grown man, they're pictures of men...
New Rule: Ladies, leave your eyebrows alone. Here's how much men care about your eyebrows: do you have two of them? Okay, we're done.
New Rule: I don't need an annoying little sticker on each individual piece of fruit. Let me get this straight: our borders aren't secure, but we're still going through the plums by hand? You know, those stickers are the opposite of appetizing, especially the one on kiwis that says, "Don't these kind of look like your balls?"
jaybird found this for you @ 14:33 in Silly People, Satire & Strange Behaviors | | permalink
There is only God, unless there is more than one God
The Unitarian Jihad
Greetings to the Imprisoned Citizens of the United States! Too long has your attention been waylaid by the bright baubles of extremist thought. Too long have fundamentalist yahoos of all religions (except Buddhism -- 14-5 vote, no abstentions, fundamentalism subcommittee) made your head hurt. Too long have you been buffeted by angry people who think that God talks to them. You have a right to your moderation! You have the power to be calm! We will use the IED of truth to explode the SUV of dogmatic expression!
People of the United States, why is everyone yelling at you??? Whatever happened to ... you know, everything? Why is the news dominated by nutballs saying that the Ten Commandments have to be tattooed inside the eyelids of every American, or that Allah has told them to kill Americans in order to rid the world of Satan, or that Yahweh has instructed them to go live wherever they feel like, or that Shiva thinks bombing mosques is a great idea? Sister Immaculate Dagger of Peace notes for the record that we mean no disrespect to Jews, Muslims, Christians or Hindus. Referred back to the committee of the whole for further discussion.
jaybird found this for you @ 10:32 in Silly People, Satire & Strange Behaviors | | permalink
ferrum et vinum
I'm very excited to be at the first concert for Iron and Wine in Asheville. I've loved his work for some time, and never thought I'd get to see this powerful, Nick Drake-esque music performed live. Full report in the morning, with pics if possible.
UPDATE: What a great show. I'm really blown away by the eloquence, and so many things right now, late at night, so close to the bordercrossing of the stars...
jaybird found this for you @ 21:39 in Art, Music, Theater & Film | | permalink
the cunning folk
The daily grind is magical
The term 'Cunning Folk' appears to be Anglo Saxon in origin and was in common usage from around about the 14th century up until the early 20th. It referred to a professional practitioners of magic, people who employed magical means to find lost or stolen property, cure ills, find a loved one or protect a livelihood, for a price. They came mostly from the upper end of the lower class (literacy was often essential as many cunning folk were self taught) and were often artisans or craftsmen as well as cunning folk (this, it is thought, gave them enough flexibility to see clients and a useful cover for their practice which was for most of it's history existed in a legal grey area).
They seem to have mostly set up shop around urban areas and in market towns, contrary to the common idea of a rural wise-folk, because they would be guaranteed more trade there. Often they started off as herbalists and medics before branching out into charms, astrology and other more magical activity such as finding thieves or curing a bewitching. Contrary to the more modern ideas they weren't witches, from records of the age it seems that there was a distinct difference in peoples minds between witches (who were generally considered as malicious) and Cunning Folk (who were often called on to remove witchcraft). Neither however were they enlightened occultists, a large number of these practitioners appeared to be in the game for purely altruistic reasons and some were downright bastards, using a variety of tricks and deceptions to fool their clients with a few going so far as to actually slowly poison them to ensure continued business.
This maybe painting a generally bleak picture of Cunning Folk so it's worth pointing out that from what I've read so and the talk I attended last night that a lot of the historical evidence of Cunning Folk comes from their detractors and trial transcripts, the practice of a cunning trade was illegal throughout most of their history and the practice of a magical trade meant walking a legal knife edge. Considered at first Diabolical and later purely fraudulent it is probably a better reflection on their trade that so few of them were ever arrested and tried, this seems to suggest to me that the majority of them went quietly about their business without causing undue attention. If we use as a modern comparison the Yoga movement today, a historian in a hundred years time is probably going to find more information on these folks than he/she will on the many other thousands of teachers.
jaybird found this for you @ 19:35 in Culture, People & Customs | | permalink
comic absurdity of war
Terry Jones on war on terror
In the book, Jones criticizes the use of language to describe the conflict in Iraq, the coverage by the news media and the influence neoconservatives such as Richard Perle and Paul Wolfowitz have exercised in U.S. policy.
"First the [initial] bombing was called a war, but I thought a war had to have two sides," he says. "Then it became a war because people fought back, but now it's an 'insurgency.' "
For that matter, in the book he takes on the phrase "war on terrorism" with a Python's sense of the absurd: "But how is 'terrorism' going to surrender?" he writes. "It's well known, in philological circles, that it's very hard for abstract nouns to do anything at all of their own volition."
jaybird found this for you @ 15:30 in Authors, Books & Words | | permalink
party with the village people
Forget Telluride. Go to Jiahu Village Where the Fun Is (Or Used to Be)
Had you been looking for a good party 9,000 years ago, Jiahu village near China's Yellow River would have been the place. It had music: During the 1980s, archaeologists turned up the earliest known instruments there, six bone flutes. Other artifacts recently studied from that dig unmask the first example in history of another essential party ingredient: booze. Chemical analysis of 16 broken jars shows they once contained a beverage made of fermented rice, honey, and either grapes or hawthorn fruit—a mix of beer, wine, and mead rolled into one.
jaybird found this for you @ 11:27 in History, Civilization & Anthropology | | permalink
certainly not in town for the water
A wayward white whale paid a call on Trenton on Tuesday, creating a splash among delighted crowds along a narrow, urbanized stretch of the Delaware River about 55 miles upriver from Claymont. New Jersey officials said they would attempt to herd the out-of-place mammal - believed to be a 10- to 12-foot beluga whale - back downriver... it's unusual to see a beluga, which number about 62,000 to 80,000 worldwide, in the area because they usually stay in colder water.
Having grown up in Delaware and heard of these things before, it's rather exciting but at the same time rather sad. That river remains very polluted, and this poor creature must be quite lonely. The best that could happen, of course, is the whale returns to its proper ecosystem and all the gawkers and onlookeers will be more curious about whales and their protection.
jaybird found this for you @ 07:27 in Environment, Ecology & Nature | | permalink
deep peeking
These two images portray the movement of the nano-sized probes. On the left, a false-color overlay of fluorescence from a cell taken at four minute intervals reveals the dots moving from the green to the red positions. On the right, a large aggregate of immobile dots is indicated with the red arrow, while the circled stars and arrows indicate dots that move.
jaybird found this for you @ 19:42 in Science, Quantum & Space | | permalink
the death of pain?
The Hedonistic Imperative
The Hedonistic Imperative outlines how nanotechnology and genetic engineering will eliminate aversive experience from the living world. Over the next thousand years or so, the biological substrates of suffering will be eradicated completely. "Physical" and "mental" pain alike are destined to disappear into evolutionary history. The biochemistry of everyday discontents will be genetically phased out too. Malaise will be replaced by the biochemistry of bliss. Matter and energy will be sculpted into life-loving super-beings animated by gradients of well-being. The states of mind of our descendants are likely to be incomprehensibly diverse by comparison with today. Yet all will share at least one common feature: a sublime and all-pervasive happiness.
But, lemme ask, is life without pain or suffering truly living? Stuggle shapes who we are, defines our character and helps us make decisions. I can't help but think that a hedonistic imperative in this sense will create a freakish pleasure-dome Logan's Run/THX-1138 type future (non)society, as well as a monstrous cleaving of the haves and have-nots. At the same time, many aspects of this treatise could be fused with social action and global goodwill to raise our overall joy threshold... it's all so very complicated.
jaybird found this for you @ 15:30 in Consciousness, Psychology & Philosophy | | permalink
words on chaos magick
Altar, Consciousness
If you're studying magic, you probably have one of three main objectives in mind. Either you are searching for a way to increase your knowledge of the phenomenal world, or you're seeking an increase in personal power through magical actions, or you're trying to increase your wisdom. All three of these aims are relatively harmless in & of themselves.. studying occult arts is dangerous only to those who have a vested interest in seeing you remain the same.
Would you sell your soul to some greedy djinn for three measly wishes? & if so, what would they be? Knowledge is the djinn.. wisdom comes with sorrow. Whatever you pursue is what you've established as your life's worth, your soul's purchase price... the soul you possess is determined by the path you walk, and to alter your course requires that you sacrifice who you are to who you can become, or it requires you to subsume yourself to some greater archetypal force and act as its avatar in the phenomenal world.
But there has to be more than desire, than intent, for the whole formula to work...
jaybird found this for you @ 11:23 in Consciousness, Psychology & Philosophy | | permalink
the bohm diggity
Interview with David Bohm
When I was a boy a certain prayer we said every day in Hebrew contained the words to love God with all your heart all your soul, and all your mind. My understanding of these words, that is, this notion of wholeness--not necessarily directed toward God but as a way of living--had a tremendous impact on me. I also felt a sense of nature being whole very early. I felt internally related to trees, mountains, and stars in a way I wasn't to all the chaos of the cities.
When I first studied quantum mechanics I felt again that sense of internal relationship--that it was describing something that I was experiencing directly rather than just thinking about.
The notion of spin particularly fascinated me: the idea that when something is spinning in a certain direction, it could also spin in the other direction but that somehow the two directions together would be a spin in a third direction. I felt that somehow that described experience with the processes of the mind. In thinking about spin I felt I was in a direct relationship to nature. In quantum mechanics I came closer to my intuitive sense of nature.
jaybird found this for you @ 07:22 in Science, Quantum & Space | | permalink
Scanning the Monk
Is the religion of tomorrow hidden in our brains?
As evidence grows that what we habitually think and feel actually resculpts our neural tissue, scientists have begun to study others who seem able to literally change their minds -- Buddhist monks who chant mantras and do visualization practices to develop what appears to be an indelible sense of compassion. With the day nearly arrived that a handful of angry people could blow up not just a restaurant but a city, we could use effective ways to defuse intolerance. Religion does not have completely clean hands in the matter. As we slowly emerge from millennia of holy know-it-alls trying to enforce competing copyrights on Ultimate Truth, a melding of Eastern and Western mind science might point the way toward the original spiritual goal of learning to get along.
If so, the key will be compassion, the x-factor that every faith (or its founders, at least) exalts as a supreme virtue. When the Dalai Lama says "My only religion is kindness," when the Pope calls for a "civilization of love," that can't be just mealy-mouthed piety. Kindness and love are actual forces to be reckoned with, able to transform the most relentless enmity. South Africa's Nelson Mandela once remarked that he befriended his jailers, those grim, khaki-clad overseers of his decades of hard labor in a limestone quarry, by "exploiting their good qualities." Asked if he believed all people were kind at their core, he responded, "There is no doubt whatsoever, provided you are able to arouse their inherent goodness."
How do we awaken the kindness that, along with aggression, is so clearly a part of our basic nature? Contemplatives of all traditions have long claimed that meditation can prime the pump of compassion. Now researchers are starting to wonder if some religious disciplines are not just articles of faith, but ancient methods of neural transformation.
jaybird found this for you @ 19:43 in Spirituality, Religion & Mythos | | permalink
the big signal
Look out for giant triangles in space
The search for extraterrestrial intelligence... could be taking the wrong approach. Instead of listening for alien radio broadcasts, a better strategy may be to look for giant structures placed in orbit around nearby stars by alien civilisations.
"Artificial structures may be the best way for an advanced extraterrestrial civilisation to signal its presence to an emerging technology like ours" says Luc Arnold of the Observatory of Haute-Provence in France. And he believes that the generation of space-based telescopes now being designed will be able to spot them.
Arnold has studied the capabilities of space-based telescopes such as the European Space Agency's forthcoming Corot telescope and NASA's Kepler. These instruments will look for the telltale dimming of a star's light when a planet passes in front of it. They could also identify an artificial object the size of a planet, such as a lightweight solar sail, says Arnold. His work will be published in The Astrophysical Journal.
Arnold has determined the characteristic transit signal that differently shaped objects would produce, including a Jupiter-sized equilateral triangle and a louvre - parallel slats with gaps between them. Corot and Kepler will be capable of distinguishing these objects from most planets, though they could still be confused with a ringed planet like Saturn, he says.
To ensure the signal is unambiguous, an alien civilisation would have to launch a number of objects into orbit around a star. As an example, Arnold imagines 11 objects orbiting a star in groups of one, two, three and five - the first prime numbers. The time interval between each group could also encode prime numbers if the objects were powered rather than orbiting freely. He thinks any civilisation that can engineer giant structures in space would probably not find this a problem.
jaybird found this for you @ 15:38 in Science, Quantum & Space | | permalink
The Economic Tsunami
Coming Sooner Than You Think
It seems that there are a growing number of people who believe as I do, that the economic tsunami planned by the Bush administration is probably only months away. In just 5 short years the national debt has increased by nearly 3 trillion dollars while the dollar has continued its predictable decline. The dollar has fallen a whopping 38% since Bush took office, due largely to the massive $450 billion per year tax cuts. At the same time, numerous laws have been passed (Patriot Act, Intelligence Reform Bill, Homeland Security Bill, National ID, Passport requirements etc) anticipating the need for greater repression when the economy takes its inevitable nosedive. Regrettably, that nosedive looks to be coming sooner rather than later.
The administration is currently putting as much pressure as possible on OPEC to ratchet up the flow of oil another 1 million barrels per day (well over capacity) to settle down nervous markets and buy time for the planned bombing of Iran in June. Like Fed Chief Alan Greenspan's artificially low interest rates, the manipulation of oil production is a way of concealing how dire the situation really is. Rising prices at the pump signal an upcoming recession, (depression?) so the administration is pulling out all the stops to meet the short term demand and maintain the illusion that things are still okay. (Bush would rather avoid massive popular unrest until his battle-plans for Iran are carried out)
But, of course, things are not okay. The country has been intentionally plundered and will eventually wind up in the hands of its creditors as Bush and his lieutenants planned from the very beginning. Those who don't believe this should note the methodical way that the deficits have been produced at (around) $450 billion per year; a systematic and orderly siphoning off of the nation's future. The value of the dollar and the increasing national debt follow exactly the same (deliberate) downward trajectory.
jaybird found this for you @ 11:35 in News, Opinion & Politique | | permalink
out of place, running out of time?
Scientists amazed by crocodiles in Sahara
Crocodiles living in the Sahara sounds like fiction, but Spanish scientists are investigating such a group in southern Mauritania. The reptiles are regarded as the last remains of the abundant crocodile population that roamed the Sahara before it dried up about 9 000 years ago. The group of a few dozen crocodiles subsists at a pond near the Senegalese border... The pond, measuring about 100 square metres, is located 200km from the nearest river...
jaybird found this for you @ 07:24 in Environment, Ecology & Nature | | permalink
it's about balancing the worlds
Shattering shaman myths
Shamanism, humankind's oldest spiritual and healing tradition, is in many cultures dominated by men, and Western skeptics often debunk its effectiveness. ...A groundbreaking new book published last month... challenges the historical hegemony of the male shamanic tradition, restores women to their essential place in the history of spirituality and celebrates their continuing role in the worldwide resurgence of shamanism...
Probing the practices that distinguish female shamanism from the much-better-known male traditions... the key role of "body wisdom" and women's eroticism in shamanic trance and ecstasy.
jaybird found this for you @ 20:11 in Spirituality, Religion & Mythos | | permalink
it's not napping, it's art.

A website dedicated to cats in funny sleeping positions.

That is all [via MeFi].
jaybird found this for you @ 16:05 in Silly People, Satire & Strange Behaviors | | permalink
huh?
Why can't you pay attention anymore?
[Attention Deficit Trait is] sort of like the normal version of attention deficit disorder. But it's a condition induced by modern life, in which you've become so busy attending to so many inputs and outputs that you become increasingly distracted, irritable, impulsive, restless and, over the long term, underachieving. In other words, it costs you efficiency because you're doing so much or trying to do so much, it's as if you're juggling one more ball than you possibly can... When people find that they're not working to their full potential; when they know that they could be producing more but in fact they're producing less; when they know they're smarter than their output shows; when they start answering questions in ways that are more superficial, more hurried than they usually would; when their reservoir of new ideas starts to run dry; when they find themselves working ever-longer hours and sleeping less, exercising less, spending free time with friends less and in general putting in more hours but getting less production overall.
jaybird found this for you @ 11:57 in Consciousness, Psychology & Philosophy | | permalink
humans: get a clue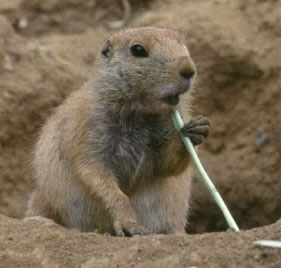 Most people listening to prairie dog chatter describes it as a series of yips, high-pitched barks or eeks. However, according to Dr. Slobodchikoff, Professor of Biology at Northern Arizona University, prairie dogs are capable of referential communication. They have:
* different alarm calls for different species of predators
* different escape behaviors for different species of predators
* transmission of semantic information, in that playbacks of alarm calls in the absence of predators lead to escape behaviors that are appropriate to the kind of predator who elicited the alarm calls
* alarm calls containing descriptive information about the general size, color, and speed of travel of the predator.
jaybird found this for you @ 07:55 in Environment, Ecology & Nature | | permalink
new spring hours
That's right kids, you've noticed the past two weeks the weekned content has been lacking round here. That's because it's spring, and frankly it's too enchanting outside to compute heavily. Not to fear, the site is rolling along stronger than ever, and I'm always amazed at the response I get to this little mountain shanty.
I'd highly recommend that you get out there and revel in this downright holy time of year and play with the goddesses and gods of the emerging green!
jaybird found this for you @ 23:08 in Blogosphere, Tech & Internet | | permalink
awakening lines
A wild turkey, a female, wandering along the river road,
A soilitary seeker along the path- for what none can guess.
And all the hissing wheels that blur past her careful steps
All the intermingled destinations of a Sunday morniing
Meet at a common junction; we're all in motion, we have to be,
It's as simple as the air pressure that makes the cemetery's bluebird sing,
And makes the saxophone man to play at the corner of Church and State streets, downtown.
The motion is pushing electric green life through the branches,
The motion is pulsing the river they way it pulses my passion-splashed veins,
The motion enchants the boldening of colors and the art of love-play.
The sky, the sea, the dreams, all suddenly criss-crossed with seekers
And populated with pilgrims which know sacred topography.
This movement calls, begs for awakening
Calls to step into simple ecstasy, utter mystery,
And as I pass the wild turkey,
I turn a corner to follow her path.
jaybird found this for you @ 11:42 in Journaling the Infinite | | permalink
our turn!
New Game Rules [via orlin grabbe]
New rules. Scrap the old ones. By old I mean those of any previous age, and previous time; yesterday, 5 years ago, 20 years ago, 100 years ago, 2000 years ago. Scrap Ethics, scrap morals, scrap everything you have been told, everything you think you believe about anything. It is time to start again, to redefine recreate and remake the game we have been forced to play. This is the age of discord, the Pandamonaeon; this is the age of chaos. ""I tell you: one must still have chaos in one to give birth to a dancing star" We are the virus that will spread to mutate the world as we know it. We have never been seen before, so for, there are no rules; for us, we make the rules.
We are playing in a game, a game we did not choose to be a part of, but were none the less thrown into and forced to participate in. It is, of course, improper to think of the game as a game. That is Their number one rule. This is not a game, we are told; this is real. What we see on TV, on stages, on Movies, in newspapers, read in books, that is a game; but life, life is real, and life is dangerous and we must draw the distinction between the game we dare to play and the life we are forced to live. We must stick together, they say, we must obey not just for our own good, but for the good of our neighbor; love thy neighbor, even if it means your own demise; or at the very least your loss for his gain. These are the lies we have been spoon fed, lies that have been made necessary to the game (their game). Lies that make it so we cannot win; the deck is rigged in their favor, and unless we choose to admit it, and stack the deck in our favor again, we will never be happy.
jaybird found this for you @ 11:59 in Consciousness, Psychology & Philosophy | | permalink
10,000 years of nostalgia
The antiquity of 'the progress paradox'
Socrates said that man's basic requirements were few and easily satisfied, and Epicurus agreed. Diogenes once talked a prosperous Athenian into turning his agricultural land into sheep pastures—pastoralism has always had a special appeal with its visions of rustic tranquillity—and talked him into throwing his money into the sea. Plato's Republic dwelt fondly on the idyllic picture of an earlier communal society, while any number of Greek thinkers were convinced that the savage Scythian tribes, somewhere beyond Thrace along the shores of the Black Sea, exemplified primitive virtue in contrast to degenerate Athens.
Reaching back a bit further we find that as early as 700 BC the Greek poet Hesiod felt humanity's heroic days were past and that he lived in an era of lamentable decline. In the Golden Age (which Hesiod says was long before his own time) men were naturally peaceable, and for that reason there was no war. Nor was there any foreign trade or travel to confuse us with luxuries: everyone stayed home happily knitting their own sweaters, and no-one fussed about Paris or Pierre Cardin. Among other attractive features of the Golden Age, the people were vegetarians, made everything out of wood, and because they were naturally good their communal society was free of conflict and required no lawyers.
Notice that from the Golden Age all the way down through a series of inferior ages (Silver, Bronze, and Iron) this is a story of degeneration. Not a story of progress, but of regress. It is virtually certain that Hesiod did not live like a savage: he used a spoon and slept in a bed. But paradoxically... he hated progress. And notice also what is admired above and beyond all these particularities: the social and economic virtues described are only to be found in an imagined community where xenophobia and group hostilities had been vanquished and universal love prevails. In all these idealistic visions communal order was an implied prerequisite: some tight-knit form of collectivity was thought to be inseparable from the social virtues portrayed.
jaybird found this for you @ 19:33 in Consciousness, Psychology & Philosophy | | permalink
a real false reality?
Sony patent takes first step towards real-life Matrix
[Commentary interspersed herein]
Imagine movies and computer games in which you get to smell, taste and perhaps even feel things. [That's what IMAGINATION is for, bonehead] That's the tantalising [Oooh, yay!] prospect raised by a patent on a device for transmitting sensory data directly into the human brain - granted to none other than the entertainment giant Sony.
The technique suggested in the patent is entirely non-invasive. It describes a device that fires pulses of ultrasound at the head to modify firing patterns in targeted parts of the brain, [That sounds safe!] creating "sensory experiences" ranging from moving images to tastes and sounds. [Wow, you can do that shit in REAL LIFE too!] This could give blind or deaf people the chance to see or hear, the patent claims. [Bonus points for altruism!]
While brain implants are becoming increasingly sophisticated, the only non-invasive ways of manipulating the brain remain crude. A technique known as transcranial magnetic stimulation can activate nerves by using rapidly changing magnetic fields to induce currents in brain tissue. However, magnetic fields cannot be finely focused on small groups of brain cells, whereas ultrasound could be. [And yet we harly have a clue as to everything the brain does at those levels. Hate to be a luddite here, but sounds like machine smashing goodness for those who want to live an authentic life!]
jaybird found this for you @ 15:13 in Science, Quantum & Space | | permalink
The Long Emergency
What's going to happen as we start running out of cheap gas to guzzle?
A few weeks ago, the price of oil ratcheted above fifty-five dollars a barrel, which is about twenty dollars a barrel more than a year ago. The next day, the oil story was buried on page six of the New York Times business section. Apparently, the price of oil is not considered significant news, even when it goes up five bucks a barrel in the span of ten days. That same day, the stock market shot up more than a hundred points because, CNN said, government data showed no signs of inflation. Note to clueless nation: Call planet Earth.
Carl Jung, one of the fathers of psychology, famously remarked that "people cannot stand too much reality." What you're about to read may challenge your assumptions about the kind of world we live in, and especially the kind of world into which events are propelling us. We are in for a rough ride through uncharted territory.
It has been very hard for Americans -- lost in dark raptures of nonstop infotainment, recreational shopping and compulsive motoring -- to make sense of the gathering forces that will fundamentally alter the terms of everyday life in our technological society. Even after the terrorist attacks of 9/11, America is still sleepwalking into the future. I call this coming time the Long Emergency.
jaybird found this for you @ 11:10 in News, Opinion & Politique | | permalink
Earth Piercing
Hole Drilled to Bottom of Earth's Crust, Breakthrough to Mantle Looms
Scientist said this week they had drilled into the lower section of Earth's crust for the first time and were poised to break through to the mantle in coming years. The Integrated Ocean Drilling Program (IODP) seeks the elusive "Moho," a boundary formally known as the Mohorovicic discontinuity. It marks the division between Earth's brittle outer crust and the hotter, softer mantle. The depth of the Moho varies. This latest effort, which drilled 4,644 feet (1,416 meters) below the ocean seafloor, appears to have been 1,000 feet off to the side of where it needed to be to pierce the Moho, according to one reading of seismic data used to map the crust's varying thickness.
The new hole, which took nearly eight weeks to drill, is the third deepest ever made. The rock collection brought back to the surface is providing new information about the planet's composition.
jaybird found this for you @ 07:08 in Science, Quantum & Space | | permalink
partial eclipse of the heart
Sky-watchers from the South Pacific to the Americas will witness the first solar eclipse of 2005 on Friday when the moon blots out part of the sun. It will be a partial eclipse rather than a total one, in which the Earth is cast into darkness. But it will be the last partial solar eclipse visible from the continental United States until May 20, 2012.
jaybird found this for you @ 20:12 in Science, Quantum & Space | | permalink
Thomas Friedman
The World is Flat, or is it?
Friedman writes that the world is now entering the era of "Globalization 3.0," following Globalization 1.0, which ran from 1492 until 1800 and was driven by countries' sheer brawn, and Globalization 2.0, in which "the key agent of change, the dynamic force driving global integration, was multinational companies" driven to look abroad for markets and labor, spurred by industrial-age "breakthroughs in hardware" such as steamships, trains, phones and computers. That epoch ended around 2000, replaced by one in which individuals are the main agents doing the globalizing, pushed by "not horsepower, and not hardware, but software" and a "global fiber-optic network that has made us all next-door neighbors." If the first two eras were driven mostly by Europeans and Americans, the third is open to "every color of the human rainbow."
In particular, Friedman is obsessed with one of the great economic phenomena of our day: the outsourcing of the U.S. economy's service and information-technology work to India, China and elsewhere. The reason that Indian accounting firms are expected to do about 400,000 American tax returns this year, that small U.S. hospitals have their CAT scans read in the wee hours by Indian or Australian radiologists known as the "Nighthawks," or that the Chinese port city of Dalian is taking outsourced work from its former imperial masters in Japan, Friedman argues, is that the world is undergoing "one of those fundamental changes -- like the rise of the nation-state or the Industrial Revolution" -- that transform the roles of individuals, governments and societies. The world was flattened, he writes, by 10 forces, including the fall of the Berlin Wall and the discrediting of Soviet-style command economies; the 1995 Netscape IPO, which opened up the Internet for easy browsing; the dot-com era overinvestment in the fiber-optic cables that such globalizing hubs as Bangalore and Shenzhen, China, rely upon to cheaply transmit data around the planet; search engines like Google, most of whose queries are now no longer in English; and such flat-world "steroids" as PalmPilots, tiny laptops and the wireless technology that lets one of Friedman's colleagues merrily e-mail from aboard a Japanese bullet train. "The 'hot line,' which used to connect the Kremlin with the White House," Friedman writes, "has been replaced by the 'help line,' which connects everyone in America to call centers in Bangalore."
jaybird found this for you @ 15:51 in Consciousness, Psychology & Philosophy | | permalink
another go at it
The one rule here should be: include every experience. Even if the experience is a subjective "hallucination" , it still needs to be explained. That is also why those teachings and worldviews that are based on negation - e.g. fundamentalist religionism rejects evolution and process, sceptical physicalism rejects psychic experiences - cannot be used as guides, the way that more embracing theories and explanations can. If there are facts that don't fit one's theory, it is necessary to expand and develop the theory so that they do, not misinterpret and distort or ignore the facts!
jaybird found this for you @ 11:49 in Consciousness, Psychology & Philosophy | | permalink
say what?
Moralistic Therapeutic Deism
While the data presented... are at once too sweeping and too specific to consider here -- as with a review of any in-depth sociological study -- the above generalizations may suffice as a summary of what Smith and Denton believe to be the most surprising findings of the NSYR. Least surprising, perhaps, is the fact that the United States is predominantly Christian, and the authors are unapologetic (and perfectly justified) in making Christianity their chief focus. More than thirty Protestant denominations are broken down into three categories -- Conservative, Mainline, and Black -- representing more than half of American teens. Catholics represent nearly another quarter. Alongside these majority Christian affiliations, the authors present Judaism and Mormonism as the two largest minority religions, representing 1.5% and 2.5% of the U.S. teen population, respectively. Given these numbers, the authors dismiss as simply false ("as a matter of empirical religiodemographic proportions") recent claims that the United States has become the most religiously diverse nation in the world. And Christian congregation leaders should rest assured: you are losing hardly any teens at all to Wicca, Buddhism, or anything at all New Agey.
This is not to say, however, that Christian leaders have nothing to worry about. All those Christians who feel under siege may not, in fact, be wrong. Yet, their teenage children are almost all conventional believers who follow their parents in matters of faith. According to the data, something far more insidious than Wicca is stealing them away... In religious terms, according to teenagers, God cares that each teenager is happy and that each teenager has high self-esteem. Morality has nothing to do with authority, mutual obligations, or sacrifice. In a sense, God wants little more for us than to be good, happy capitalists.
jaybird found this for you @ 07:48 in Spirituality, Religion & Mythos | | permalink
thar she blows
The system is young, so the planet is rather warm, like a bun fresh out of the oven. That warmth made it comparatively easier to see in the glare of its host star compared with more mature planets. Also, the planet is very far from the star -- about 100 times the distance between Earth and the Sun, another factor in helping to separate the light between the two objects.
jaybird found this for you @ 19:52 in Science, Quantum & Space | | permalink
birds on the brain
On Martha's Vineyard, the songs of the black-capped chickadee are different from those throughout North America. The songs on the Vineyard still consist of two main whistles, but both are on the same frequency. On the island are three different song dialects, the dialect on the western end of the island, at Gay Head, consisting of sweetie-hey songs, with the brief pause now in the first whistle, not the second.

At dawn, males alternate a low and a high version of this sweetie-hey song. In the sonagrams, see how the first sweetie-hey is lower than the second. As you listen to the songs, hear each element within the songs and how the male sings the second song at a higher pitch than the first.
Bonus: My hummingbird summer (NPR audio). After spending a few weeks intensively caring for four orphaned hummingbirds last summer, a wildlife rehabilitator is surprised to find that the birds have bonded to her, even after they are set free.
jaybird found this for you @ 15:38 in Environment, Ecology & Nature | | permalink
Teilhard de Chardin
The Human Phenomenon
Within a better understanding of the collective, it seems to me that the world should be understood without attenuation or metaphors when applied to the sum of all human beings. The universe is necessarily homogeneous in its nature and dimensions. Would it still be so if the loops of its spiral lost one jot or tittle of their degree of reality or consistence in ascending ever higher? The still unnamed Thing which the gradual combination of individuals, peoples and races will bring into existence, must needs be supra-physical, not infra-physical, if it is to be coherent with the rest. Deeper than the common act in which it expresses itself, more important than the common power of action from which it emerges by a sort of self-birth, lies reality itself, constituted by the living reunion of reflective particles.
And what does that amount to if not (and it is quite credible) that the stuff of the universe, by becoming thinking, has not yet completed its evolutionary cycle, and that we are therefore moving towards some new critical point that lies ahead. In spite of its organic links, whose existence has everywhere become apparent to us, the biosphere has so far been no more than a network of divergent lines, free at their extremities. By effect of reflection and the recoils it involves, the loose ends have been tied up, and the noosphere tends to constitute a single closed system in which each element sees, feels, desires, and suffers for itself the same things as all the others at the same time.
jaybird found this for you @ 11:35 in Consciousness, Psychology & Philosophy | | permalink
out of mind
The separateness of body and mind is a primordial intuition. It has sprung from our evolution as social beings and coalesced into the hardware of the central nervous system. Human beings are natural born soul makers, adept at extracting unobservable minds from the behaviour of observable bodies, including their own. Taking the next, false step, if mind and body are conceived as separate entities, it is easy to see the possibility of a mental life after physical death.

This leads me to "Broks's paradox": we are inclined to believe in mind-body dualism even though we understand it to be wrong...
jaybird found this for you @ 07:33 in Consciousness, Psychology & Philosophy | | permalink
Our Emerging Future
Impressions from: Jeremy Rifkin, Elisabet Sahtouris, Barbara Marx Hubbard, and Ray Kurzweil
Most of us already know that the world is changing fast—we can feel it in our bones and we can smell it in the air, even though we may not always be able to put our finger on just what it is that's happening. We may notice that the weather is more capricious, or we may shake off a bit of irritation when we find out, for example, that the new computer we purchased just a few months ago has already been superseded by a better-faster-smaller-cheaper-hipper-looking model. What would happen if we sat down to look at what all these small signs of change, taken together and viewed over a longer span of time, might actually be pointing to? It's not necessarily a comfortable or easy exercise to undertake, as we discovered. Because, as those who spend a lot of time thinking about things like change and time will tell you, the kind of change we're in the midst of right now is, by its very nature, different from what we've known before. How? According to the scientists and futurists featured here, all of these apparently isolated changes are part of a larger wave of systemic change that is now occurring with a magnitude and complexity greater than anything the human race has yet experienced. And that rate, some say, is accelerating exponentially—a concept that alone is overwhelming to comprehend. Indeed, the more we learned about change and the future, the more we found ourselves asking the question: Can our existing spiritual and ethical structures—both traditional and contemporary—equip us to handle the enormity, the speed, the complexity, and the overwhelming nature of the changes we're undergoing? Changes that may shortly take us, as you will see in the interviews that follow, far beyond our current capacities of imagination.
As a first step toward finding the answers to these questions, we spoke with a number of scientists, evolutionary thinkers, and futurists, who each view the world of change from a slightly different perspective. From biologist Elisabet Sahtouris's microscopic empires of warring bacteria to inventor Ray Kurzweil's intravenous brain-enhancing nanobots; from futurist Jeremy Rifkin's deathblow to the oil age to Barbara Marx Hubbard's birth of a new consciousness, each contributor opens a unique window into the many dimensions of our changing life conditions. Whether the subject of discussion is as large as our universe or as small as a nanotube, whether it's as tangible as petroleum or as ephemeral as consciousness—one thing you can count on is that it's ALL changing. And just how much and how fast is something that all of us, like it or not, are about to find out.
jaybird found this for you @ 20:04 in Consciousness, Psychology & Philosophy | | permalink
the mystical Manta ray
This Magic Moment
Mantas can be identified by the distinctive pattern on their belly, with no two rays alike. In 1992, I had been identifying the manta rays that were seen at Molokini and found that some were known, but many more were sighted only once, and then gone.
So there I was... a beautiful, very large ray beneath me and my skeptical divers behind. I reminded myself that I was still trying to win their confidence, and a bounce to see this manta wouldn't help my case. So I started calling through my regulator, "Hey, come up and see me!" I had tried this before to attract the attention of whales and dolphins, who are very chatty underwater and will come sometimes just to see what the noise is about. My divers were just as puzzled by my actions, but continued to try to ignore me.
There was another dive group ahead of us. The leader, who was a friend of mine and knew me to be fairly sane, stopped to see what I was doing. I kept calling to the ray, and when she shifted in the water column, I took that as a sign that she was curious. So I started waving my arms, calling her up to me.
After a minute, she lifted away from where she had been riding the current and began to make a wide circular glide until she was closer to me. I kept watching as she slowly moved back and forth, rising higher, until she was directly beneath the two Europeans and me. I looked at them and was pleased to see them smiling. Now they liked me. After all, I could call up a manta ray!
Looking back to the ray, I realized she was much bigger than what we were used to around Molokini - a good fifteen feet from wing tip to wing tip, and not a familiar-looking ray. I had not seen this animal before. There was something else odd about her. I just couldn't figure out what it was.
jaybird found this for you @ 15:57 in Environment, Ecology & Nature | | permalink
21st Century man
Hans Christian Andersen
For Hans Christian Andersen, life wasn't so much a fairy tale as a nightmare. Or so it seems. Though he was Denmark's most famous literary son, and a prolific author in many genres, Andersen never fully revealed himself.
Today, 200 years to the day after he was born, Andersen remains something of a mystery. But he has also become an indelible feature of global culture. Anyone who reads, watches TV or goes to movies knows his stories. One website lists 102 film titles based on Andersen's fairy tales. Some of his tales are so ubiquitous, they have become part of the language, cautionary clichés: Think of The Emperor's New Clothes, The Princess and the Pea, The Ugly Duckling...
As it turns out, Andersen is one of those figures who may be better suited to the 21st century than he was to the 19th. Born in 1805 in Odense, Denmark, to a shoemaker and a charwoman, Hans Christian grew up poor and depressed but protected by parents who seem to have recognized that their son was not your ordinary provincial kid. While other boys were running wild in the streets, he was at home playing with his toy theatre and sewing clothing for miniature actors.
Not surprisingly, he quickly became the object of much prepubescent scorn. The fact he was tall, odd-looking and effeminate didn't help. When his father died in 1816, the Andersens hit rock bottom. In 1819, at the age of 14, he made his big break and ran away to Copenhagen intending to create a life in the theatre as a ballet dancer, an actor or a singer. None of those worked out, but in the process he met people who would help him realize his dream of fame, if not fortune.
jaybird found this for you @ 11:48 in Authors, Books & Words | | permalink
The Digital Be-In
Grokking the Transparent Network
The Transparent Network archetype also implies the web of life in which we are enmeshed: gravity, cosmic rays, geometric forms, resonant fields, and the genetic code. Inventor Patrick Flanagan, whose 1971 book Pyramid Power explored invisible energy fields and sacred geometry, referred in his talk to the first major invention he "channeled" (at age 14) — the neurophone — which used ultrasonic waves to transmit information directly into the human brain. In fact, he said, like dolphins and whales, the human cranium has ultrasonic resonators that can be activated for advanced communication. This example underscores the value of Janine Benyus' idea of "biomimicry," which suggests that the design for virtually any technology already exists in nature. All we have to do is find and mimic it.


jaybird found this for you @ 07:38 in Consciousness, Psychology & Philosophy | | permalink
joslin on joslin
Holy Jokes & Sacred Clowns: Honoring the Trickster [via me]
Good times. A sermon I wrote years ago is being used as an article in the periodical Pagan Net News. Also, the new White Crane Journal is out and I've got an article featured. A friend said he read it this weekend, which was great, but I haven't seen a copy yet. So, it's a cool triple play for April: a successful (if emotionally draining) book signing, two magazine articles, one which I actually wrote for publication.
I'm deeply honored...
jaybird found this for you @ 19:53 in Spirituality, Religion & Mythos | | permalink
the civilization of rats

Some of them can read [via MeFi]
Recently, a track worker called Manuel, who moonlights as a handyman, helped Daphne and me paint what would soon become our child's room. Manuel painted in silence, until I asked if he ever encountered rats in the tunnels. 'I see them all the time! They're big, and they're brave. They scare me. The other night I was spreading concrete when I looked up and there was one about a foot long, staring at me. When I waved my shovel at him he stood up on his hind legs and snarled.'
'What did you do?'
'I decided to go on a break.'
jaybird found this for you @ 15:44 in Environment, Ecology & Nature | | permalink
another side now
Gospel of Judas back in spotlight after 20 centuries
About 2,000 years after the Gospel according to Judas sowed discord among early Christians, a Swiss foundation says it is translating for the first time the controversial text named after the apostle said to have betrayed Jesus Christ. The 62-page papyrus manuscript of the text was uncovered in Egypt during the 1950s or 1960s, but its owners did not fully comprehend its significance until recently, according to the Maecenas Foundation in Basel. The manuscript written in the ancient dialect of Egypt's Coptic Christian community will be translated into English, French and German...
"We have just received the results of carbon dating: the text is older than we thought and dates back to a period between the beginning of the third and fourth centuries... "We do not want to reveal the exceptional side of what we have..."
jaybird found this for you @ 11:38 in Spirituality, Religion & Mythos | | permalink
good humor
Animals Laughed Long Before Humans, Study Says
As the human brain evolved, humans were able to laugh before they could speak, according to a new study. But here's the punch line: Laughter and joy are not unique to humans, the study says. Ancestral forms of play and laughter existed in other animals long before humans began cracking up. In studying laughter, scientists have focused mostly on related issues—humor, personality, health benefits, social theory—rather than laughter itself. New research, however, shows that "circuits" for laughter exist in very ancient regions of the human brain. As humans have incorporated language into play, we may have developed new connections to joyous parts of our brains that evolved before the cerebral cortex, the outer layer associated with thought and memory.
"Human laughter has robust roots in our animalian past..."
jaybird found this for you @ 07:37 in Environment, Ecology & Nature | | permalink
blog breaking II
Regular goodness resumes tomorrow.
I wish I could take a break from my usual responsibilities as painlessly and as easily as chilling on my daily posts for a weekend. I guess I'm hitting a bit of burn out or empty bucket syndrome due to some massive appropriation of energy. It's logical, anyway. The whole rat race thing is a bit overwhelming when I really just want to stop, breathe, watch spring take hold and feel free for just a monment. It sounds like a fantasy but it shouldn't be.
Really, we all need to do that, to appreciate the wonder of it all.
jaybird found this for you @ 19:50 in Journaling the Infinite | | permalink
blog breaking
This weekend, I'll be taking a very rare blogging break. I'm a bit worn out from the book signing* (thanks, everyone!) and I've got a paper due that must be in good shape by Sunday night. Regular goodies will be served again on Monday.
* It went very well, though there were several major technical hangups and foibles, and despite strong marketing, I didn't quite hit the sales mark I'd been hoping for. But, for a 'debut,' it was wonderful and I'm very pleased, if a little spent.
jaybird found this for you @ 17:53 in Journaling the Infinite | | permalink
acting a fool
Acting a fool for the love of it all
It's the best anyone can do;
To expose for the world the crux of the matter
The soul's unspeakable truths
Concealed in words
Only you could have written.
Tracing cliff's edge with a tentative foot
Verifying the depths of a dare
Validating the chasms of hard-won meaningfulness...
Why chance fate when tomorrow is certain,
And why play the game when the score is kept by the stars?
To not do so would be an even greater gamble.
Go ahead, beloved fool,
Toss your heart-woven words out into the aether
And see what beautiful people will do with them
Hear the transmutation of verb into light
Feel the abstraction become a stone in your pocket
And walk your path, without fear, toward the reckoning place of foolish thought and beautiful action...
jaybird found this for you @ 23:59 in Journaling the Infinite | | permalink
the climax of months of planning
The show has begun.
jaybird found this for you @ 19:15 in Journaling the Infinite | | permalink
pre-show game
I am hurriedly trying to prepare for an event that I've been trying to prepare for months, and the day of reckoning is at hand. Tonight is my book signing and performance, and I've got something in the order of three and a half million things to do in the next few hours. I'm cool, calm and fairly collected, at least in theory, and I've got the support of friends to the extreme.
As a matter of fact, please allow my indulgence to thank the following for all their hard work and devotion to this project:
Debbie, Daniel, Anne, Susie, Jen, Sherman, Delia, Mary S., Aliyah, Ellen, Joshua & Robin, Howard, Don F., Don P., Molly, Kari, Mary W., Kim, Tree, Francine, and a few hundred Jubilants for their support and encouragement to get my ass on the line and stand for myself and my work.
Tonight will be risky, in that sharing personal writing in such a way certainly creates vulnerability. But I'm beginning to believe that not doing this would be riskier. I have a lot at stake in choosing to create, and not that my book or tonight is validation, but it's about sending the creation forward to transform and become something else.
Final hours... here we go!
jaybird found this for you @ 16:15 in Journaling the Infinite | | permalink
obsession with sickness
Why is being ill now embraced as a positive part of the human experience?
We live in a world where illnesses are on the increase. The distinguishing feature of the twenty-first century is that health has become a dominant issue, both in our personal lives and in public life. It has become a highly politicised issue, too, and an increasingly important site of government intervention and policymaking. With every year that passes, we seem to spend more and more time and resources thinking about health and sickness.... there is now a presupposition that illness is as normal as health. Earlier theories of medicalisation still considered illness to be the exception; now, being ill is seen as a normal state, possibly even more normal than being healthy. We are all now seen as being potentially ill; that is the default state we live in today.
jaybird found this for you @ 12:11 in Health, Medicine & Bio-Happiness | | permalink
dune as esoteric masterwork
Science fiction novels are normally filled with technological references. Dune has little or no technology and there is a reason for this: advanced computers have long been forbidden due to the Butlerian Jihad, which states "Thou shalt not make a machine in the image of Man's mind", and as a replacement human skills have been developed to an astonishing degree – after Mankind as a whole has experienced the dangers of over-reliance on technology. Dune, if anything, is a message for our time, whereby the mind is not appreciated for its true potentials and drugs are seen as having no educational value – instead, we offer a computer-generated world as a virtual reality, neglecting the superhuman abilities that we could perform within our own realm. Dune may thus be a messianic vision of our own future – and a return to core human values… which may explain why it has maintained its freshness since it was written forty years ago.
jaybird found this for you @ 08:11 in Authors, Books & Words | | permalink
All material contained within this website, excluding external links and items listed otherwise,
are registered with Creative Commons. All photographic works, logos, and creative writing
are Copyright 2005 by theodore "jay" joslin and joyous jostling studios. Thank you, Wanderer, for All.